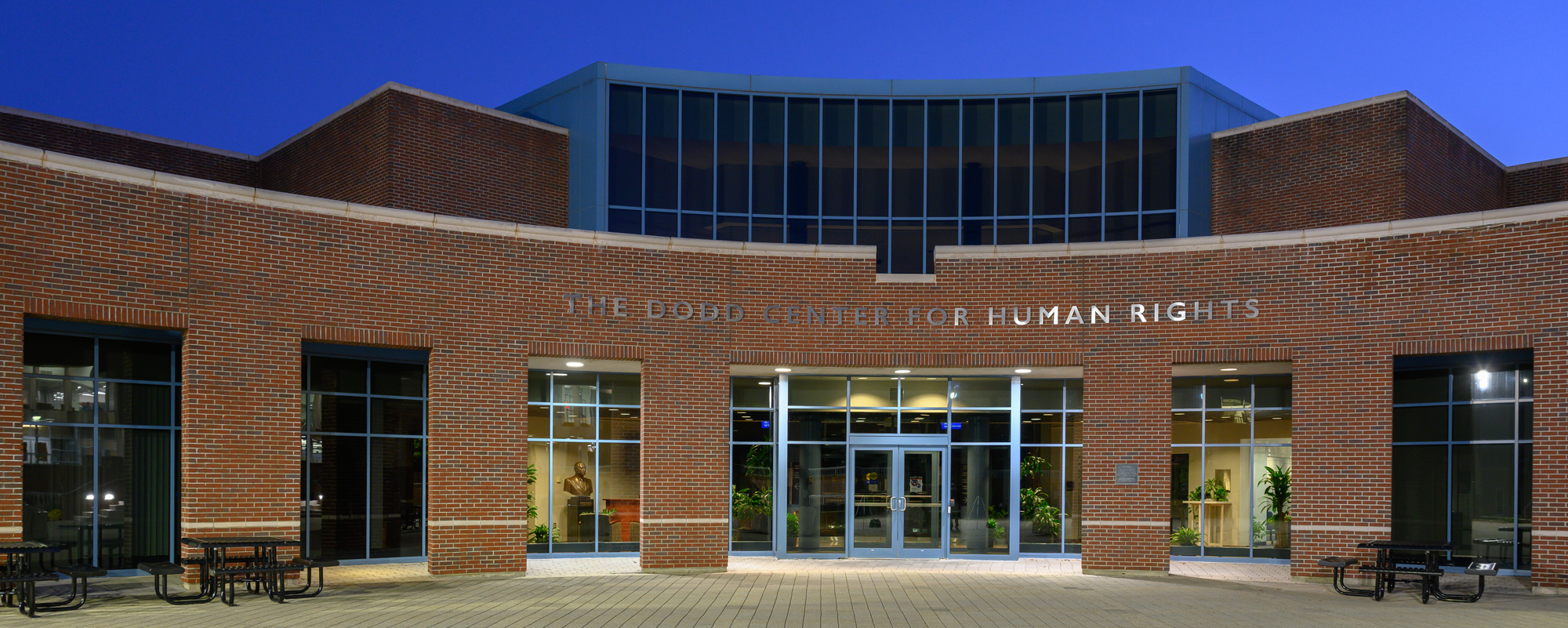 The Dodd Center for Human Rights celebrates the life and legacy of Senator Thomas J. Dodd and Senator Christopher J. Dodd. Combined, the father and son served over 50 years in the United States House of Representatives and United States Senate representing Connecticut. The center honors their dedicated public service at home and abroad.
Home to robust academic programs and innovative external engagement in human rights, The Dodd Center houses the Gladstein Family Human Rights Institute and its Dodd Human Rights Impact programs, the University Library's Archives & Special Collections, and the Center for Judaic Studies & Contemporary Jewish Life.
First established in 1995 as the Thomas J. Dodd Research Center to honor Senator Thomas J. Dodd who sought justice in the wake of the unspeakable tragedies of the Holocaust, the building holds and archives his personal papers from his role as a prosecutor at the Nuremberg Trials. On October 15, 2021, President Joe Biden rededicated the building as The Dodd Center for Human Rights to recognize the legacies of both Thomas J. and Christopher J. Dodd. 
Christopher J. Dodd's lifelong commitment to human rights is strongly evidenced by the laws and policies he co-authored during his tenure as Senator. Through legislation such as the Dodd-Frank Wall Street Reform and Consumer Protection Act, which requires companies to disclose their use of conflict minerals, Senator Dodd's work continues to uphold and protect human rights globally.
Events at The Dodd Center

Human Rights Close to Home
Summer Institute
July 17-28, 2023 • Storrs, CT
Human Rights Close to Home (HRCH) engages K-12 educators and youth in the development and implementation of human rights education for civic action with the aim of strengthening democracy and respect for human rights in our Connecticut communities and beyond.
Teachers across all grades and subjects explore human rights issues, learn teaching tools and strategies, develop curriculum materials/educational initiatives that support civic engagement, and receive professional development. High school students gain human rights knowledge and civic engagement skills in order to implement their own civic action plans in their local communities.

Human Rights Summit
Human Rights and the Global Assault on Democracy
October 25-27, 2023 • Storrs, CT
The Human Rights Summit at The Dodd Center for Human Rights brings together scholars, activists, policymakers, artists, and business leaders from across the world to examine the key human rights challenges of our time and generate new ideas to promote global justice and human dignity.
Through a mix of high-profile lectures, practical workshops, and roundtable discussions, the Human Rights Summit will serve as a critical venue for sharing insights, building relationships, and inspiring action.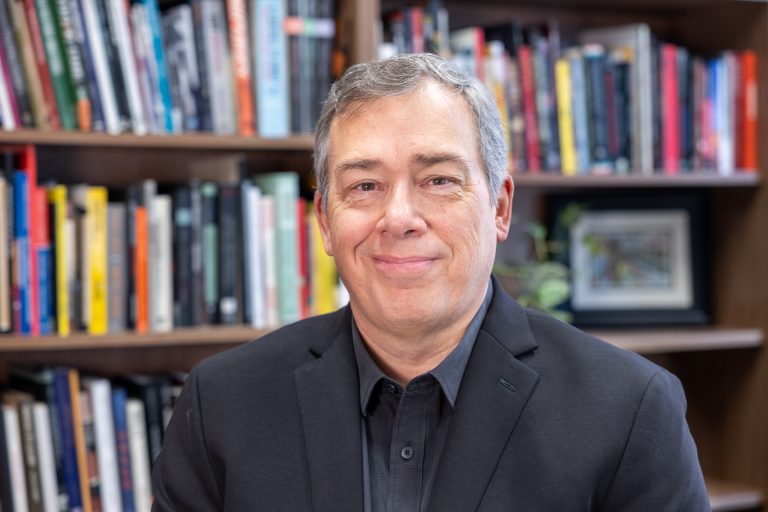 August 17, 2023 | Jaclyn Severance
James Waller, eminent scholar of the Holocaust and genocide studies, will combine classroom learning with human rights practice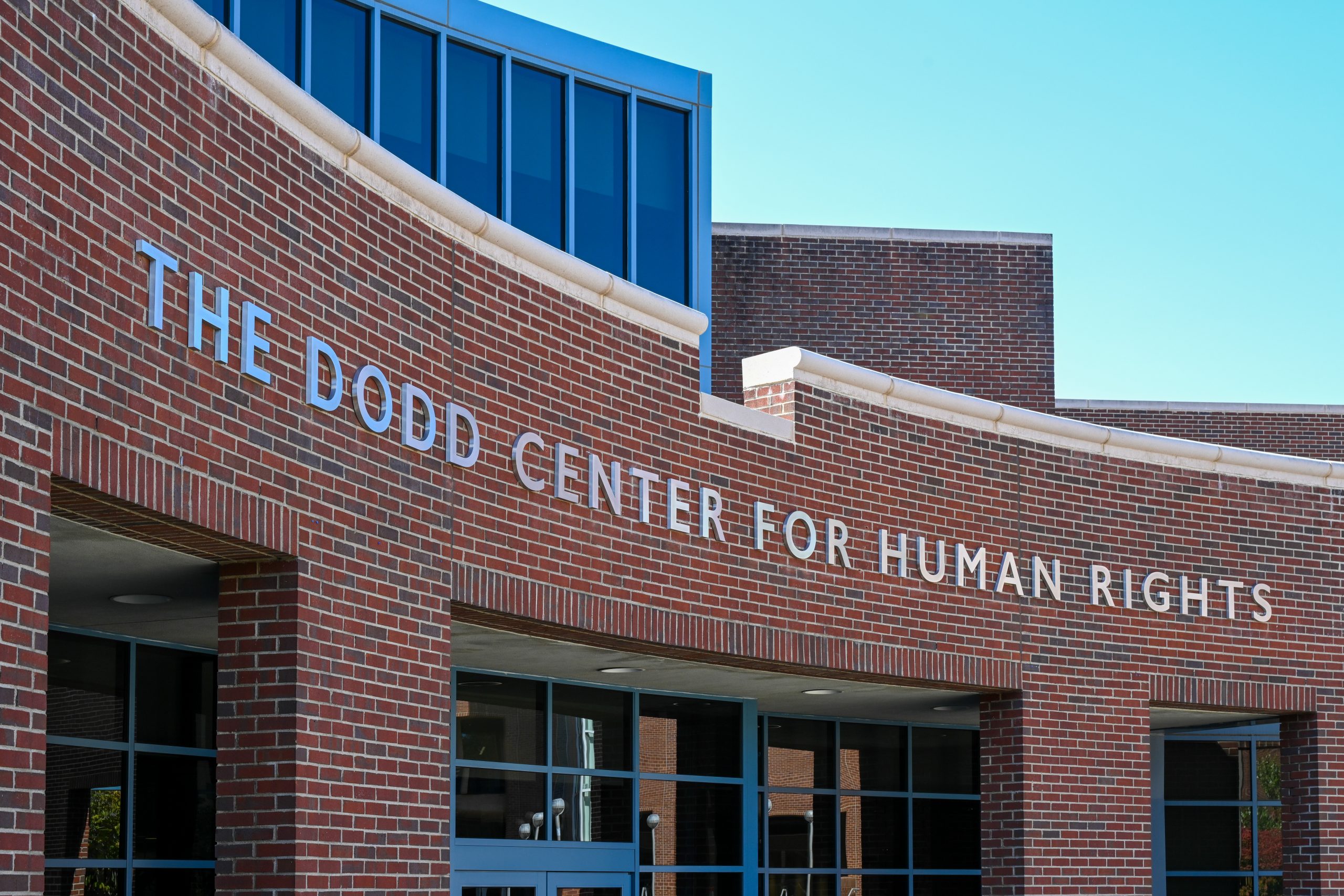 August 1, 2023 | Jaclyn Severance
In addition to the awarding of the Dodd Prize, a panel about Babyn Yar will be featured at the inaugural Human Rights Summit to be held on October 25, 26, and 27, at UConn's Dodd Center for Human Rights